Monthly drawing of a Dinner for 4 at mi Pueblo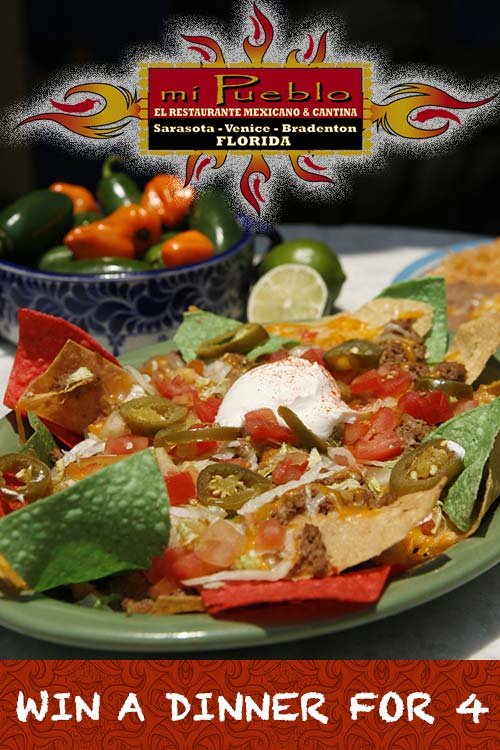 Amigos de mi Pueblo
Appreciation Program.
Enter for a chance to win a VIP Dinner for 4 at one of the 3 Mi Pueblo locations!

Each Sweepstakes is open to enter from the 1st till the last day of each month. Drawing will be on the first of each following month. Winner will be notified by email. Winner must present valid picture ID to claim prize. Prize has no cash value.



To enter please fill in First and Last Name
This contest is brought to you by:
Mi Pueblo Mexican Restaurants
By submitting my email, I understand the privacy policy & rules: Giveaway winners will be selected at random. No purchase necessary to enter. We'll only use your email to send you relevant updates, promotions and news. You'll have the opportunity to unsubscribe at any time, immediately, once you receive your first email. By entering your email address you agree you would like to receive these occasional emails from mi Pueblo and top10sarasota.com.
Monthly drawing of a Cigar & Wine Experience at Maduro
Enter for a chance to win 2 Zino Platinum Cigars & a bottle of Chateau d'Or



Each Sweepstakes is open to enter from the 1st till the last day of each month. Drawing will be on the first of each following month. Winner will be notified by email. Winner must present valid picture ID to claim prize. Prize has no cash value.



To enter please fill in First and Last Name
This contest is brought to you by:
Maduro Cigar & Bar
By submitting my email, you accept following rules:
You have to be 21 years or older and a residence of the United States to enter our sweepstakes.
No purchase necessary to enter.
Your email will never be shared with a third party.
We'll only use your email to send you relevant updates, promotions and news.
You can unsubscribe by clicking the unsubscribe link in our emails.
We are not responsible for failure of notification delivery.