The top10 Sarasota Blog
The Ultimate Guide to Zota Beach Resort
Waking up to the sound of crashing waves, could there be anything more relaxing? Everybody has a different definition of paradise. Some people love the big city with a world of lights that never seem to dim. Others live for the endless mountains, views filled with nothing but the sound of the wind in the trees. Me, I am drawn to the ocean. I want to wake up to the soft blues of that never-ending ocean and end my day with sand between my toes and a sunset that sets the sky on fire. That is my kind of paradise. And that is exactly what I found at Zota Beach Resort.
When I look for a beach resort, I look for that perfect combination of beach and modern. I love being only steps away from the ocean but also having a luxurious oasis to escape inside. So you can only imagine how excited I was when I found this little gem of a hotel on Long Boat Key! Zota Beach Resort has everything you want in a beach retreat! You have a restaurant with sunset views that you couldn't even imagine, a pool bar that gives you that ultimate vacation vibe, a beach that is right outside your door, and balconies that make you never want to see anything but the ocean ever again!
Curious yet? Here is a little sneak peek of the hotel!
As I was setting up to enjoy a few days or relaxing luxury I realized that trying to get the best experience out of a hotel can be overwhelming. So I decided to create a little checklist of steps for you to take to make sure you enjoy this resort to the fullest!
Here is the ultimate guide for a vacation at Zota Beach Resort:
1. Eat Breakfast on the Balcony!
If you aren't waking up every morning with a cup of coffee in your hand, room service on your table, and the endless ocean in front of you then you are you even on a beach vacation? Even though I grew up in Florida, there is something absolutely magical about the balcony views at Zota Beach Resort. Maybe it is the slightly tinted windows that give the ocean blues this dreamy haze, or maybe it is just the fact that crashing waves are the first things you see when you wake up, but I fell in love with their balconies. So obviously waffles and coffee in my comfy robe were a must!
2. Rent a Pool Cabana!
Days in Florida get hot. Now it's not drinking a yummy cold drink and feel better hot, I'm talking hair sticking to your face hot! That's why getting a cabana for the day needs to be on your vacation list! They are fully equipped with everything you need for a long pool/beach day. There are a TV, a mini-fridge, some comfy couches, and best of all… a fan! There is no better feeling than laying out by the pool and then escaping the heat in your own private sanctuary!
Bonus: you can get your food delivered to your cabana!! Just between you and me, their burger was to die for!
3. Take Advantage of the Beach!
If you have ever been to Florida then you know, there is no such thing as an empty beach! People flock to the white sand and crystal clear water all year long. So when you go to a resort-like Zota Beach Resort, it feels amazing to walk out to an empty beach. Now obviously other hotel guests are there as well but you don't have to worry about overcrowding and you can just relax and enjoy the sun!
4. Sit under the Palm Trees!
Now, this might just be a personal preference, but I have always wanted to relax under the shade of a palm tree. I just think there is something so tropical and relaxing about the shadows that a palm tree creates… I couldn't help but snap a few pictures. Zota Beach Resort has palm trees all around the pool creating that ultimate vacation look!
5. Have a Sunset Dinner!
I don't think I have ever had dinner with a more amazing view! Watching the sunset over the pool, the palm trees, and the ocean while sipping on champagne and enjoying some tasty seafood… it was an absolute dream. If you go to Viento Kitchen + Bar, make sure to try their seafood appetizer!
(Click here to read more about the restaurant)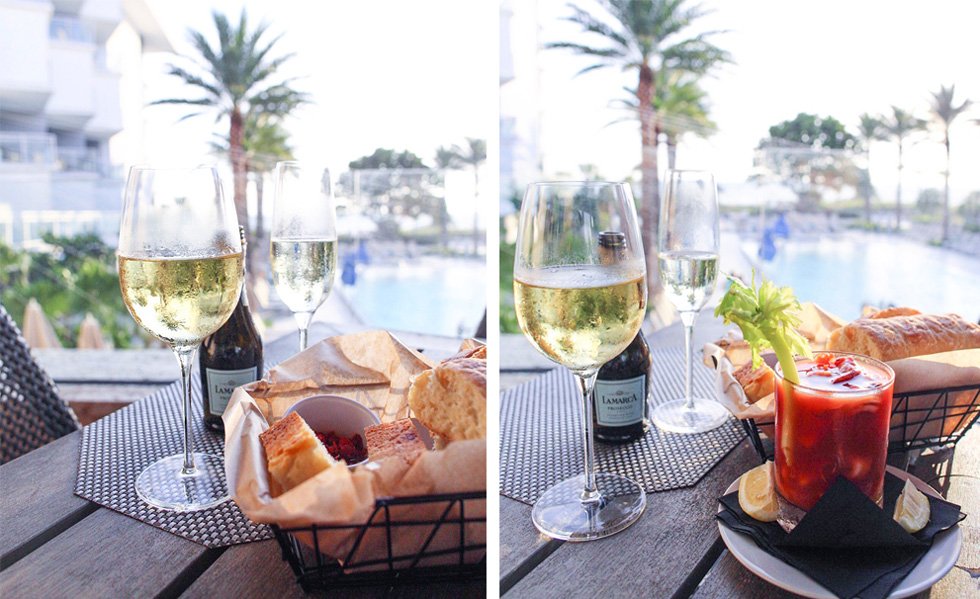 6. See Why Florida Sunsets are Famous!
If you have never seen a Florida sunset then you are in for a treat. Sunsets are beautiful all around the world but ask anyone, there is something about the fire in the sky that sets Florida sunsets apart. Head back to your room and sit out on that balcony while the oranges and pinks dance across the horizon. It will be the experience of a lifetime!
7. Champagne, Champagne, CHAMPAGNE!
No vacation would be complete without some bubbly!
Overall, there is nothing that could ruin a vacation at Zota Beach Resort. The rooms are as beautiful as can be and the staff is there to tend to your every need! Whether you live in Florida and are looking for a beachy stay-cation or you want to fly down to experience the luxury of the Gulf Coast, Zota Beach Resort needs to be on your radar!