The top10 Sarasota Blog
Sunny Getaway at The Ritz Carlton Sarasota
Elegance never goes out of style and neither does a Ritz Carlton Hotel. With the combination of the waterfront location on Sarasota Bay and the exceptional amenities, it is no surprise that the
Ritz Carlton Sarasota
is a verified luxury hotel according to Forbes Travel Guide. The resort not only includes the actual hotel in the heart of downtown Sarasota, but it also has a separate Beach Club located right on the shoreline of Lido Key as well as a Golf Club off-site. The Ritz Carlton Sarasota manages to elevate the tropical beach location that is Sarasota to a new level of luxury.
Upon Arrival
Rolling up to the entrance of the Ritz Carlton Sarasota, we were greeted by the hustle and bustle of valets and bellhops rushing to assist the arriving guests. With big smiles and friendly attitudes, they welcomed us to the hotel and assisted us as we checked in. I am telling you, there is no feeling quite like the one when you first walk into a Ritz Carlton. Between the gorgeous marble floors and the elegant chandeliers, it really is luxury at its finest. While the front desk prepared for the stay, we were immediately spoiled with champagne! I don't know about you but any vacation that starts with bubbles is the vacation for me!

To our happy surprise, our room was already set up and ready for us because of the very handy early check-in option! If you are arriving earlier than the standard 4 pm check-in, just give the hotel a call and they will do their best to have your room all set. If they aren't able to accommodate the earlier arrival, you can hand off your luggage and go enjoy the resort until the room does become available.
Inside the Rooms
Our room was everything that I could have asked for! We were staying in a Two Queen Marina-View room on the Club Level floor. The elegant colors and the perfect view of the Marina definitely lived up to the hype. I mean, who wouldn't want to wake up to a balcony that overlooks palm trees and the blue water? As I looked around the room, I opened the door to the bathroom and was left speechless. I know what you are thinking, it's just a bathroom. Wrong!! It was marble as far as the eye could see! I could have probably spent my entire vacation in this bathroom and been completely happy. I have officially found my dream bathroom and it is located at the Ritz Carlton Sarasota!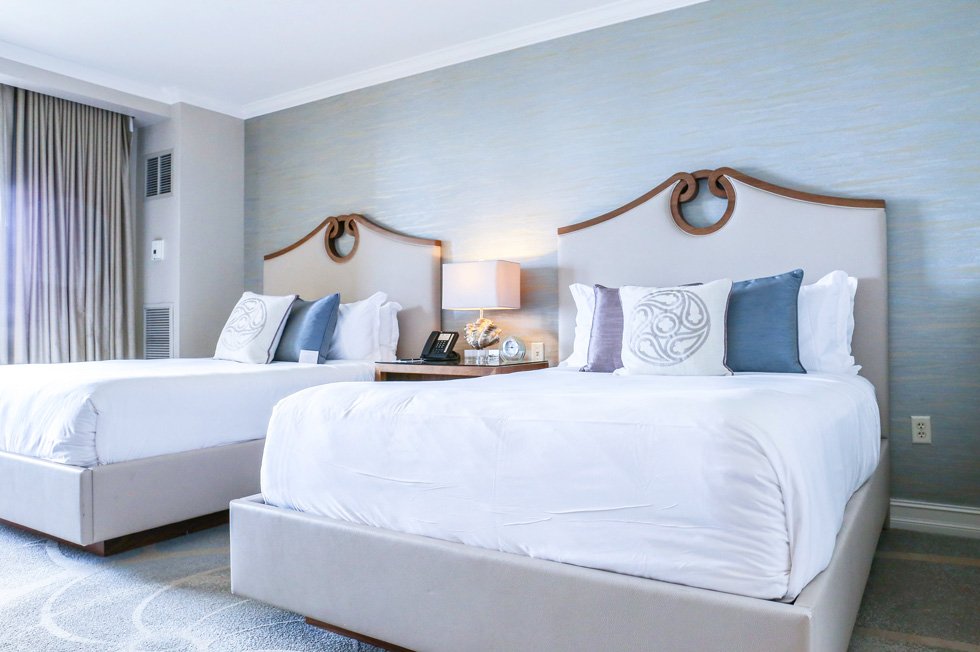 Club Level Benefits
Now I mentioned before that our room was on Club Level but the benefits of these rooms are more than just the location on the private floor of the hotel. When you book a club level room, you automatically get access to The Ritz-Carlton Club Lounge. Located on the 8th floor, this is the perfect place to work, relax, or just hang out. Because it is on the 8th floor, it also has an amazing balcony area with a stunning view!

Club Level Access is an additional fee but the benefits are well worth it! As if the lounge wasn't already enough of a reason to upgrade your room, there are also the added bonuses such as complimentary access to the spa and of course, daily meals. From morning till night, The Ritz-Carlton Club Lounge offered us a buffet with an assortment of amazing bites and treats. They served breakfast, mid-day snacks, lunch, hors-d'oeuvres, and desserts and cocktails! Literally anytime we were feeling peckish we just headed to the lounge and grabbed a bite. It was my dream come true!
Tasting the Food
So now we get to the important question, how was the food? AH-MA-ZING! We really stuck to the club level for most of our meals because of how convenient it was. I mean, our room was seriously only a few doors down from an all you can eat buffet. Talk about Kimberly's Heaven!

Aside from the Club Lounge, the Ritz Carlton Sarasota also has an amazing restaurant located on the lobby floor. Jack Dusty is well known all around Sarasota for having some of the finest cocktails and seafood. This elegant waterfront restaurant is open daily from 7 am to 10 pm, and till 11 pm on Fridays and Saturdays.
If you are looking for more of that beachy vacation vibe while you eat, just head to the Ritz Carlton Beach Club to Ridley's Porch. Decorated with soft blues and light grays, this oceanfront restaurant definitely offers a more laid back and relaxed dining experience. We enjoyed our meal while overlooking the ocean!
(click here for more dining information)

Beach Club Views
Speaking of the ocean views, let me tell you about my all-time favorite spot at the Ritz Carlton Sarasota. I know I said it was the bathroom in my room but I promise you this place might even beat those marble floors. The Ritz Carlton Beach Club! Right away when you walk up to this exclusive beach getaway, you feel as if you are stepping into a commercial for a Caribbean island getaway. All you see is blue skies, crystal clear ocean water, and giant swaying palm trees. It truly is the ultimate vacation spot.
As we walked to the pool we were greeted by the once again very friendly staff. They helped us pick a spot, you can sit either by the pool or on the beach, and set up comfy beach chairs for us. They quickly brought over ice, waters, and of course, a menu filled with delicious snacks and cocktails! I only have one tip for you… GET the piña colada or strawberry daiquiri! They the perfect mix of refreshing and fruity!
---
If you go to the Beach Club, make sure to spend the day soaking up the sun rays and feeling that ocean breeze on your face! If you need to cool down, take a dip in the palm tree surrounded pool. Feeling like you need an extra dose of relaxation? Not to worry, the hot tub is here to help! Also, make sure you take a quick trip down to the Tiki Bar on the beach. If you weren't feeling those tropical vacation vibes yet, this spot will do the trick!
---
Spa Time
It doesn't get much better than relaxing in a tropical oasis like the Beach Club! But if you are anything like me and burn super easily, you'll be looking for a different way to unwind that maybe involves a little less sunshine. That's when you absolutely need to head to the spa inside the hotel! Enjoy a variety of treatments and massages or just spend some time sitting in the healing waters or in the sauna and steam rooms!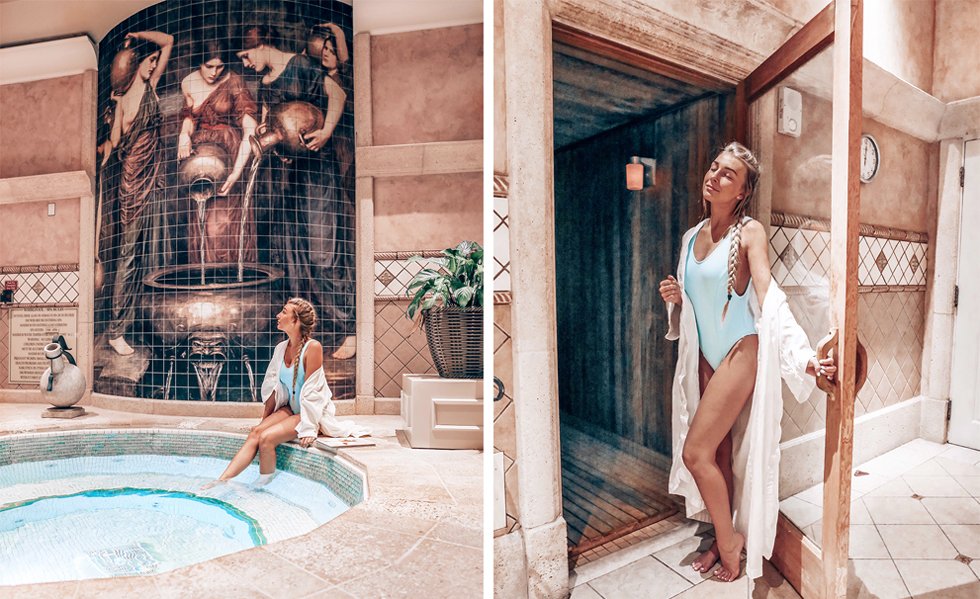 What Else is There to Do?
For all of you who have just bundles of energy when you are on vacation, the Ritz Carlton Sarasota has got you covered. While checking in I received a little card that had all of the listed amenities on it and I swear I felt my jaw hit the floor. Enjoy tennis, golf, snorkeling, paddleboarding, kayaking, and so much more. The resort provides you with all the equipment you need for an action-packed day!

Little added bonus: The Ritz Carlton Sarasota has an awesome shuttle that takes you to and from the beach club! It can also drop you off at St. Armands Circle for some fun shopping.
My Overall Thoughts
Overall I was blown away by the Ritz Carlton Sarasota! I know I keep saying it but the staff was just amazing. Always ready and eager to help, it made our stay 100 times more enjoyable having such a positive environment! I also will never grow tired of the view at the beach club! It is one that is well worth seeing. This is one hotel that I hope to keep coming back to for years to come!

(click here for more hotel information)
Ritz Carlton Sarasota
1111 Ritz-Carlton Drive

Sarasota, FL 34236
Phone: 941-309-2000