The top10 Sarasota Blog
Weekend at The Sarasota Modern
When you think of a beach vacation you think of palm trees and sunshine and when you think of a city vacation you think of sophisticated style and trendy buildings. So what happens when you combine them both? You get
The Sarasota Modern
!
Everybody wants to find that perfect inner city hotel. That hotel that gives you the hype and style of being in a big city while still offering a calm oasis away from the hustle and bustle. Well, this past weekend I was invited to enjoy a little stay-cation at
The Sarasota Modern
and it was exactly what I was looking for! I had already fallen in love with the style of the hotel from all the pictures that I had seen but from the second I stepped through the front door I was just blown away. From the perfect combination of white walls and trendy decorations and palm trees and tropical vibes, the hotel was a photographers dream come true!
Even though I could have probably spent the entire three-day vacation taking pictures of the hotel, we had a jam-packed schedule filled with all kinds of restaurants and activities! It was going to be a weekend all about exploring the Sarasota Sunshine. I want to give you guys a little peek into all the amazing places we explored and hopefully, you get to check them out soon too!!
DAY 1
Being the overly excited person that I am, I made us arrive at the hotel just a little early…. 4ish hours early but ya know, who's counting. Since our room was not quite ready yet we decided to pass off your luggage to the front desk and take the opportunity to explore the hotel before the rest of the group got there. The hotel was like one giant instagramable spot, I honestly thought I was going to go into picture idea overload. I mean seriously how gorgeous is this pool?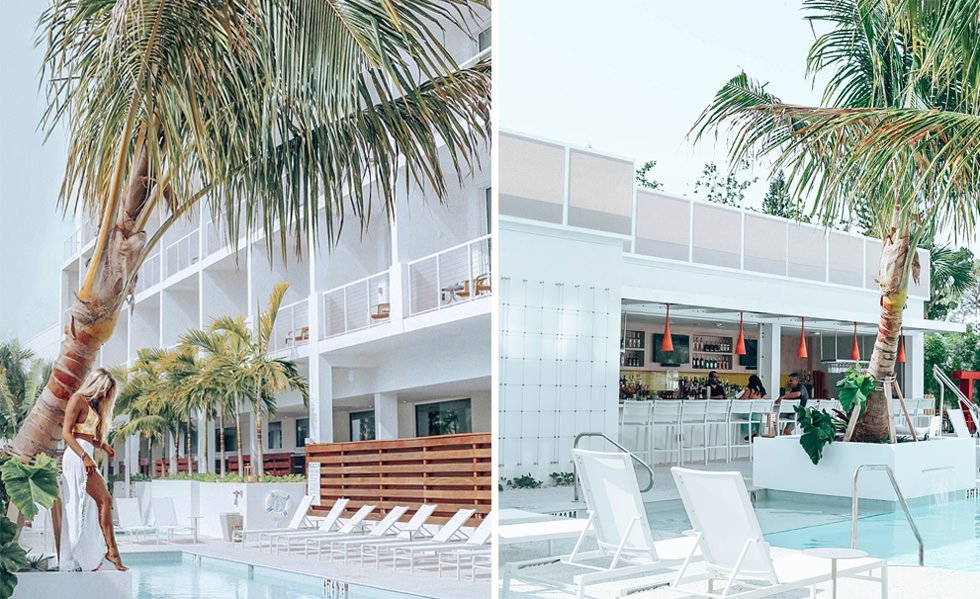 As everyone else was slowly arriving and getting checked in, the pool was just calling my name. After 2 months of snow and cold in Austria, nothing felt better than that 75-degree breeze and the sunshine hitting my face!
After some fun in the sun, our room was finally ready and we headed up to our
delux studio suit
. It was like walking into my dream bedroom. If I ever build my own house, I am putting a bathtub on the balcony!
After some down time and some editing, it was time to head downstairs to meet the other bloggers and journalists. We all grabbed some champagne and toasted to the action-packed weekend we were all about to have. Then it was off to dinner at
Shore on St. Armands
.
Fun fact: I actually used to work there so it was kind of fun being able to walk in as a guest for once!
DAY 2
Having only gotten back from Europe the day before, I woke up at 4 in the morning still super jet lagged. At least it gave me some time to edit and get some work done before breakfast. Around 8:30 we all met for breakfast at one of my favorite local spots, The Overton. Between the delicious flat white coffee and the trendy atmosphere, it is one of my top tips for you all!

After some of the best avocado toast in town, we were off to spend our morning with sea life at Mote Marine Aquarium. Now this place has been around for as long as I can remember. In fact, I used to come here in elementary school for field trips. It was a blast being able to hang out with the otters and sea turtles.
As everyone's stomach started to growl, we headed back to St. Armands for lunch. This time, to Columbia. Between the Cuban cuisine and the sangria, we all had a blast getting to know each other and exchanging travel stories.
After lunch, all the blogger girls decided to get together and create a dream shoot with the bathtub on the balcony back at the hotel. We all pitched in for endless amounts of flowers and ended up having so much fun!! Probably one of the best shoots I have ever been to! I just love how all of the pictures turned out!!
I spent the rest of the day being a bit lazy and lounging in my room. Then it was off to dinner at the hotel restaurant
Rudolph's
. The chef, Jennifer Salhoff, was a chef on the TV show Hell's Kitchen and she is just a wizard with her food. For those of you who know me, I really don't like fish, it's just always too fishy. But when she brought out the fish appetizer, I literally could not stop eating it!
DAY 3
I woke up on day 3 and the travel bug that I had started fighting had just gotten to me. I spent my morning in bed, just waiting for that DayQuill to kick in. The rest of the group headed out to breakfast at
Station 400
. Luckily, being a local, I can still tell you that if you go you absolutely need to get their specialty mimosas and sit in the outside seating! It's the perfect way to start a day!
After a couple of hours, I was finally feeling a bit more like myself and I was able to join everybody for lunch at
Muse at the Ringling Museum. They have this Caprese salad that comes served directly on a salt block, super yummy! Being full and happy, we took some time to explore the rest of the Ringling Museum before heading back to the hotel to enjoy a sunny afternoon!
To add to our already very calm afternoon, we got to enjoy an in-room massage provided to hotel guests by Pure Vie. They offer all kinds of services from therapeutic massages, to facials, and deep tissue. I have never had a massage in the comfort of my own hotel room before but it was amazing. My masseuse, Renee, made sure I felt pampered from start to finish. It was soooo relaxing!
As our trip was coming to an end, we all gathered for one last goodbye dinner downtown at
Lilas
. Being one of my favorite restaurants in town I was so excited for everyone else to try it. A small group of us just order a bunch of appetizers and shared so everyone got a chance to try all goodies!!
DAY 4
As everyone from out of town headed to the airport to catch their flights, I decided to take advantage of our late checkout and have one last photoshoot day. We explored the hotel and tried to take in every last bit of relaxing beauty! After that, we packed up the car and drove the very far 20 minutes back home. Even though the hotel was just right around the corner, it felt like the perfect getaway. The trip was perfectly planned from start to finish and I was so happy to have been a part of it all. If you ever find yourself looking for the perfect boutique hotel in Sarasota, The Modern is the one for you!