E-Newsletter in Sarasota Florida
September 21, 2016
This weeend: The Purple Xperience
Let's get crazy! Get your purple seat in one of the 3 beautiful venues. Tix from $25
Sep 22nd: Tampa,Tampa Theatre
Sep 23rd: St Petersburg, Coliseum
Sep 24th: Lakeland, Polk Theatre

Celebrate the unique and talented life and music of Prince with this special tribute concert. The Purple Xperience, a five-piece tribute band hailing from Minneapolis, brings the memories of Prince and The Revolution to audiences of all generations. Led by Matt Fink (aka Doctor Fink), a member of Prince and The Revolution from 1978 to 1991.

St. Pete & Clearwater: $10 off with Code: top10
While supplies last.
---
Top 10 Weekend Events in Sarasota
WE WELCOME A NEW TOP10 IN SARASOTA
For generations, the Mazzone Family has made it their primary mission to transform the highest quality, single varietal Coratina olives into an exceptional oil guaranteeing authentic aromas, flavors and nutritional content.

Maduro Cup at The Founders Club
Sep 23 - 25 2016, The Founders Club, 001 Founders Club Dr, Sarasota, 941 925 4747
Friday 9/23, 6 PM, Kickoff Cocktails and Dinner
Saturday 9/24, 10 AM, Round 1, Team Four Ball Matches
Sunday 9/25, 10 AM, Round 2, Single Matches
---
WE WELCOME A NEW TOP10 IN SARASOTA
Green Zebra Cafe's menu ranges from satisfying sandwiches and salads to more adventurous offerings, such as raw entrees and raw desserts. Green Zebra Cafe offers an extensive list of blended smoothies and cold pressed juices, wellness shots and elixirs, as well as a wide variety of gluten free, dairy free and vegan options.
Ozapft is!
Oktoberfest at The Saltwater Cafe, 23rd from 6-7pm.Sep 23 - Oct 16
Traditional food like Wiener Schnitzel, Bratwurst, Sauerbraten with German Beer and Wine! Free Beer on Friday September
WE WELCOME A NEW TOP10 IN SARASOTA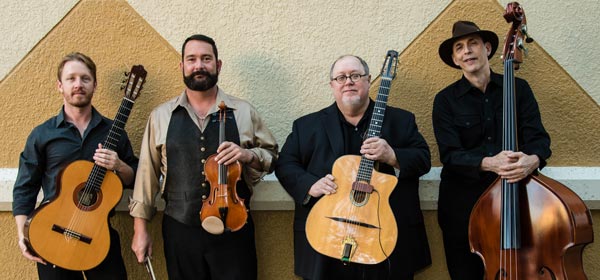 Reputably the most swinging, versatile and refined Gypsy Jazz ensemble in the South...

Gypsy Jazz that is deeply rooted in the style of Django Reinhardt and Stephane Grappelli. This music simply swings and is full of beauty and romance! They emulate the style of what the French call "Jazz Manouche" and "Le Jazz Hot" in the style of Sinti virtuosos and the "Quintette du Hot Club de France" circa 1934-1948.

Art, Rhymes & Beer: One Year Anniversary
A year old in celebration of music, people, art, community & culture. Join the many artists, performers and local businesses coming together to create an experience filled with music, art and fun for a charitable cause.
Saturday Sep. 24, 2016, 6pm-10pm JDubs Brewery, 1215 Mango Ave., Sarasota
---
WE WELCOME A NEW TOP10 IN SARASOTA
CELEBRITY CHEF CRAIG CHASKY
Craig's success took him to THE FOOD NETWORK, New York Times, New York Magazine Yankee Magazine, Sarasota and Manatee Herald, ABC and NBC TV-NPR Radio.

Today Chef Craig Chasky is empowering others to achieve their dreams by encouraging and guiding, so in turn they can be successful in their field.

2016 Beer, Boats & Bacon
Saturday Oct 8 2016, 12:00 pm thru 7:00 pm, Nathan Benderson Park, 5851 Nathan Benderson Cir, (941) 812-7400

Tons of Bacon & Food Vendors, Unlimited Craft Beer Sampling from 3-7pm, Family Friendly Section with Learn to Row Classes, Live Music, Games, Prizes!
---
WE WELCOME A NEW TOP10 IN SARASOTA
When any part of your pool does nor work anymore, you can count on Escape Pool to make the appropriate repairs quickly and correctly. Pool Renovation and Remodeling , Facelift or a complete overhaul, Professional Leak Detection